Second Annual Syracuse Ramadan Dinner Planned June 9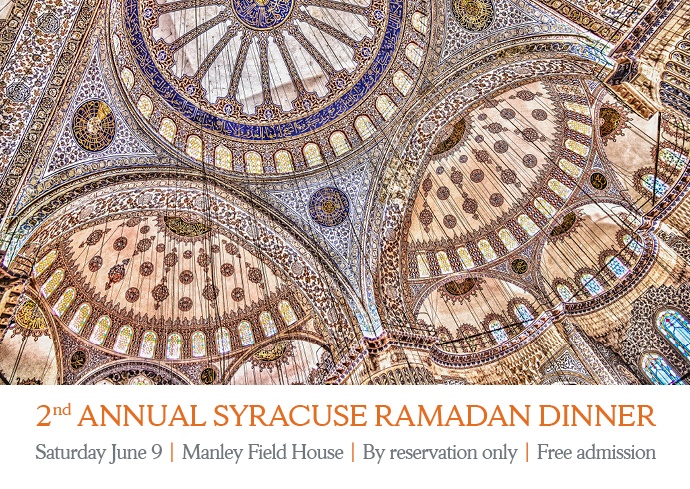 The second annual Syracuse Ramadan Dinner will be held Saturday, June 9, at 7 p.m. at Manley Field House. Iftar (Ramadan dinner) will be served after remarks and a presentation on Islam and Ramadan. Hendricks Chapel Dean Brian Konkol will speak, among others.
Admission is free, but by reservation only. R.S.V.P. by June 3 to https://tinyurl.com/y859jnle.
Muslims across the globe celebrate the holy month, fasting from dawn until dusk. Ramadan is not only about abstaining from food; it is also about charity, empathy and building character.
"For me, the goal of this community Iftar dinner is to bring the Greater Syracuse community together to celebrate and embrace diversity and inclusion and the opportunities these offer for our community to grow and advance. We are blessed to have such a rich diversity in Syracuse," says Muslim Chaplain Amir Duric. "At the same time, we are blessed that the leadership at Syracuse University, the City of Syracuse, and other community leaders understand and embrace the value and opportunities that our diversity presents."
For more information about Ramadan, and if you would like to join in fasting for a day, visit https://www.islamicity.org/5331/islamic-legal-rules-of-fasting/.
"The opportunity to host this Ramadan Dinner on campus is both an honor and delight. Not only will such fellowship provide an opening to learn from our Muslim leaders, but it will also serve as a distinctive and significant reminder that our collective future depends upon whether or not people that navigate religion differently can develop the aptitude to cooperate," says the Rev. Brian E. Konkol, dean of Hendricks Chapel. "As religious and spiritual diversity continues to grow in Syracuse and beyond, my hope is that such occasions to transcend boundaries will provide greater understanding and contribute toward our common good."
The event is sponsored by Al Huda Mosque, Burmese Muslim Community Center, the City of Syracuse, Hendricks Chapel, ICNA Outreach Center, Islamic Cultural Center of Bosnians, CNY RISE CENTER, Islamic Society of Central New York, Masjid Bilal, Masjid Isa Ibn Maryam, Muslim Student Life at SU, Syracuse Cultural Center and Syracuse University.
Source: https://news.syr.edu/2018/05/second-annual-syracuse-ramadan-dinner-planned-june-9/